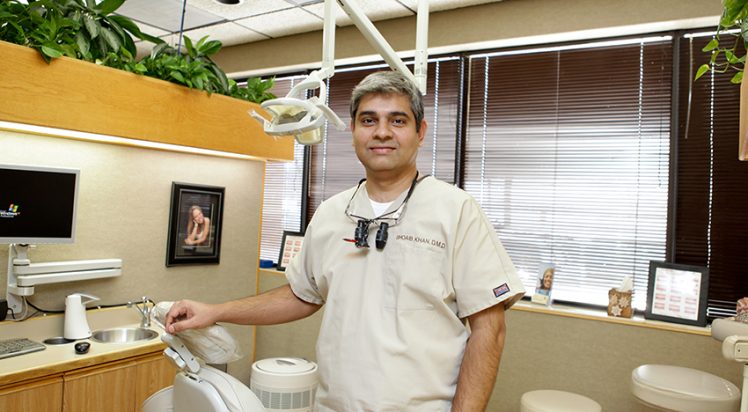 Dr. Khan brings to his practice training and expertise from some of the best minds in the dental industry today. He derives great satisfaction in bringing the best modern day dentistry to his patients and believes in uncompromising and compassionate care. Something most people will note at their very first visit with him.
Attention to detail and listening to his patient are his core practice values, spending time to get to know his patients and their dental needs and formulate treatment recommendations tailored to their situation. He places great emphasis on preventive dental care monitoring his patients to spot patterns of breakdown and recommending corrections to prevent problems before they start to manifest themselves. Dr. Khan is also a great proponent of minimally invasive dentistry and prefers modalities that stress the maintenance of natural healthy smiles.
In his spare time Dr. Khan likes to spend time with his daughter and son. He is also a self proclaimed "techie" in both his personal and professional life and likes to keep up with the latest innovations. He feels he has found a great home in Illinois and looks forward to helping his patients to uncover the full potential of a healthy and radiant smile. To learn more about Shoaib Khan, D.M.D., and the ways in which he can help you achieve your dental needs please contact our practice in Arlington Heights, Illinois.
A committed lifelong learner Dr. Khan has since spent significant time and resources to seek out leaders in the different disciplines in dentistry, including the following memberships and fellowships:
Affiliations, Accreditations & Memberships
Come Be Well & Smile With Us